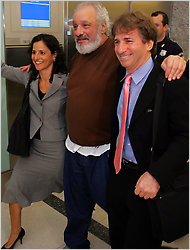 JUNE 3, 2010 12:43 PM
The city said it reached a $9.9 million settlement agreement on Thursday with a man who was released from prison nearly two decades after beingframed for a murder he did not commitby a police officer who doubled as a mob hit man.
The payout to the man, Barry Gibbs, 61, would be the largest settlement the city has paid in response to a civil rights lawsuit, eclipsing the $8.75 million paid to Abner Louima in 2002, said Barry Scheck, who represented Mr. Gibbs.
The payout comes in addition to a $1.9 million wrongful conviction payment that Mr. Gibbs has already received from the state.
The settlement still requires approval from Judge I. Leo Glasser of United States District Court in Brooklyn.
The 1988 conviction of Mr. Gibbs for murdering a prostitute and dumping her body on the Belt Parkway was overturned in 2005, when his original case file was discovered in the Las Vegas apartment of Louis J. Eppolito.
Mr. Eppolito, now known as one of the two notorious "Mafia cops," had led the investigation of Mr. Gibbs. Subsequent investigation revealed that a key witness said he had been told to lie by Mr. Eppolito. Mr. Eppolito and Stephen Caracappa were sentenced to life in prison in 2006.